Bioglo Says:
Omega-3, A Vital Nutrient for Healthy Skin

Omega-3 is the main component of your skin's cell membrane. It ensures that the cell membrane works efficiently and pro-actively for flawless, healthy skin.
Inca Inchi – The Plant with the Richest Omega-3 Essential Fatty Acids
Originally from the Amazon rainforest, Inca Inchi (Plukenetia volubilis) has been widely used by the natives in their beauty rituals. Recent scientific studies have confirmed Inca Inchi's high Omega-3 content and nutrient composition (including the antioxidants vitamins A and E) that can neutralize the free radicals responsible for premature skin aging.
Bioglo Omega-3 Serum contains concentrated Omega-3 extracted from the Inca Inchi plant, (known to have the best available plant-based Omega-3).
It also contains acclaimed skin care ingredients like Pentapeptides, Hexapeptides and Sodium Hyaluronte (Hyaluronic Acid salt).
Bioglo Omega-3 Serum's effects on your skin:
Improves softness & decreases roughness

Increases suppleness

Increases moisture level

Improves skin comfort
Omega-3 Benefits All Skin Types
Oily Skin & Acne-Prone Skin
Omega-3 helps to regulate and normalize skin sebum production and reduce blemishes such as whiteheads, blackheads and pimples
Red & Sensitive Skin
Omega-3 helps to calm and soothe irritated skin. It forms an invisible protective layer against irritants that can cause skin sensitivity and redness
Dry Skin
Omega-3 reduces moisture loss and hydrates skin
Stressed & Dull Skin
Omega-3 helps to reduce skin dullness due to dry air, pollution and years of neglect
Mature Skin
Omega-3 aids skin renewal, and helps to normalize the production of collagen and elastin, keeping skin firm, youthful and wrinkle-free
Normal or Combination Skin
Omega-3 keeps skin healthy by nourishing and protecting it.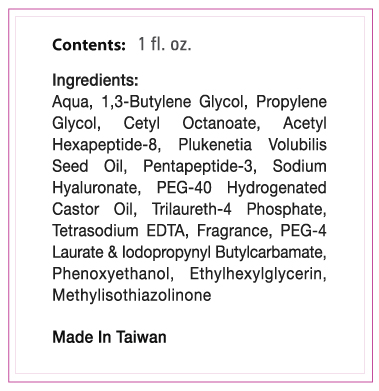 Foxy Frangipani Says:
Nett Wt: 30ml
Texture: Runny lotion
Colour: Light yellow
I thought I have previously review this serum, but I couldn't find it hmmm. Weird that the bottle is still in my to-do list lol. Playing tricks on me..
Anyway, it was my mom that started using this serum. She used a couple of bottle and my, her skin does look good! Supple and blemish free, she doesn't look like in her 50s (envy envy). It was one weekend I went back hastily without properly packing my own skincare, and she offered me this. Went to sleep and when she woke me up the next morning...
She looked excited - she commented that my skin looks really good. And yeah I jumped off the bed towards the mirror (vain people are like that). Oooohh, my skin did look plumped up and glowy. Now I know whenever we get a good night rest our skin would look good. But what I saw was way better!
So I went on and bought myself a bottle of this goodies. Used up the whole bottle, and it never irritates my skin. This is like the drugstore version on Kiehl's Midnight Recovery Concentrate.
The fact that it comes with a dropper makes usage very convenient. Have not experience any spillage, and one pump is sufficient for whole face and neck. The rubber stays solid too, so it didn't get greasy.
The serum absorbed well, and does not leave sticky residue. No unpleasant smell too, but scent could be very subjective.
Cosway occassionally has sale on this where you could get the 2nd bottle at 50% off.
The only reason I stopped buying (I've used up 3 bottles) is because Cosway kinda increased their membership fees, and other that a few selected items; my mom and I rarely purchase anything else. Hence wasn't worth to continue the membership.